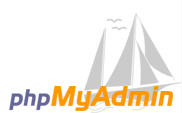 phpMyAdmin v3.3.10 Final
phpMyAdmin - это совокупность скриптов написанных на PHP, и обеспечивающих полноценную, в том числе удаленную работу с базами данных MySQL, через веб-интерфейс. Так как phpMyAdmin позволяет во многих случаях обойтись без непосредственного ввода команд SQL, то работа с базами данных становится вполне посильной задачей даже для человека весьма поверхностно знакомого с MySQL.
Активное использование MySQL в веб-программировании обусловило его актуальность, а интуитивно понятный интерфейс в совокупности с широкой функциональностью и поддержкой более 50 языков (в том числе и русского) обеспечило ему популярность среди веб-разработчиков.

Features:

* Intuitive web interface
* Support for most MySQL features:
o browse and drop databases, tables, views, fields and indexes
o create, copy, drop, rename and alter databases, tables, fields and indexes
o maintenance server, databases and tables, with proposals on server configuration
o execute, edit and bookmark any SQL-statement, even batch-queries
o manage MySQL users and privileges
o manage stored procedures and triggers
* Import data from CSV and SQL
* Export data to various formats: CSV, SQL, XML, PDF, ISO/IEC 26300 - OpenDocument Text and Spreadsheet, Word, Excel, LATEX and others
* Administering multiple servers
* Creating PDF graphics of your database layout
* Creating complex queries using Query-by-example (QBE)
* Searching globally in a database or a subset of it
* Transforming stored data into any format using a set of predefined functions, like displaying BLOB-data as image or download-link
* And much more...

What's New in This Release:

* patch #3147400 [structure] Aria table size printed as unknown, thanks to erickoh75 - erickoh75
* patch #3150164 [structure] Ordering by size gives incorrect results, thanks to Madhura Jayaratne - madhuracj
* bug #3153409 [core] 0 row(s) affected
* bug #3155842 [core] Edit relational page and page number
* [security] Minor security fixes, see PMASA-2010-9 and PMASA-2010-10
* [lang] German update, thanks to jannicars@users.sourceforge.net.