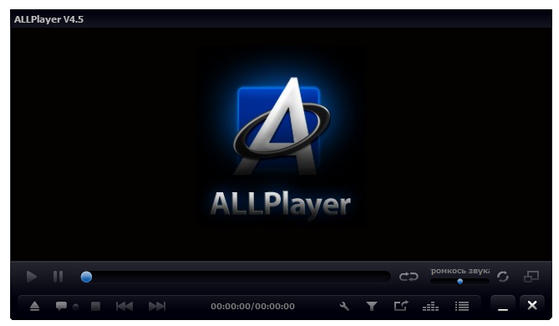 AllPlayer v4.5.0.0
AllPlayer - бесплатный плеер польских разработчиков, поддерживающий множество форматов таких как (AVI, MPEG, MP3, MKV, DivX, Xvid, Flash, QuickTime, DVD, FLAC), работает непосредственно с DirectX, особо не загружая систему. Куча встроенных «фишек», например, можете создавать субтитры, регулировка скорости, одновременная работа с несколькими файлами, скины, эффект антизамораживания. Работает под Win XP/Vista/7.
Subtitles:
IQ Text - Intelligent subtitles - the program checks the length of the subtitles and sets the time duration.
Subtitles support in all known formats (hh:mm:ss, ASS - Advanced SubStation, SSA - SubStation Alpha, SubRip. SubViewer (1 & 2), MicroDVD, MPL2 , SRT, SMI etc.).
Matching subtitles autodownload from opensubtitles.org
DivXMuxer - creates a DivX/XviD file with subtitles in it.
Ability to display subtitles under the picture.
The possibility of setting transparent or translucent subtitles.
Autodownload of subtitles after starting a movie from local HD.
Size and location of subtitles settable with a mouse.
Subtitles editor.
Easy subtitles adjustment from 1 to 10 seconds backward or forward.
Playback:
Most popular formats such as DivX, XviD, MP3, and AVI, FLV, MP4, 3GP, MKV, M2TS, MPG, MPEG, RMVB, WMV, QuickTime, MOV, FLAC, APE, and many more less known formats can be played thanks to codecs built into the program (only ALLPlayer needs to be installed).
DVD support.
CD support.
The option to preview images from webcams, DV or any other video source such as TV tuner.
Reader - the ability for subtitles in movies to be read by a speech synthesizer with a human voice.
Two monitors or monitor and TV support.
ALLCoverflow - a new, attractive way of browsing the movie covers of your collection.
Autoplay of movies such as two or multi-part series.
Support for Dolby Surround, SPDIF and 3D audio.
PlayList - searching for all movies or music in a specified folder or drive and putting them into a playlist.
Equalizer.
Ability to choose any audio output, including SPDIF, allowing lossless digital transmission of sound to an amplifier.
ALLConverter ™ - a simple free video converter to many popular mobile devices such as iPhone, and other mobile phones, PSP.
Additional features:
Video menu - a new ALLPlayer feature. It allows the creation of 3D menus as found on the average DVD and works perfectly with the film editor - ALLContainer ™.
Password - allows you to encrypt a file against unauthorized access - the F10 key.
ALLContainer ™ - an innovative video editor that allows anyone, regardless of their knowledge or computer skills, to edit their movies (e.g. to make a holiday video with a nice 3D menu in a few minutes).
LiveUpdate - an option for detecting missing codecs needed to open a file.
Private DRM - a B2B tool to earn on the Internet.
DivFix - repairs damaged avi files. This function allows you to watch a movie which is damaged, or a movie which is downloading.
CD/USB creator - creates a special version of ALLPlayer - in a specific directory you will find all the files that you can record on CD or USB memory stick.
Additional skins.
Skin Editor - a simple program that allows you to create your own skins.
Remote control ability.
Option to paste subtitles onto any video file creating only one file – a movie with subtitles.
Standard features:
ALLContainer – film review, cover, and subtitles all in one file.
SnapShot - takes pictures of the films (stills).
Option to redefine the keyboard.
Automatic shutdown after watching a movie.
Automatic switching off of the monitor after watching a movie.
AutoResume - resume watching the movie from the point where we finished.
Frame by frame browsing.
The ability to play the movie as a desktop background.
Possibility of changing the playback speed from 0.1x to 2x film speed.
Possibility of changing contrast, brightness, or saturation.
Possibility of changing balance, volume, and also through the AC3 sound filter, the possibility of switching output for any number of channels.
OSD - On Screen Display.
The ability to skip the film set in the program settings (default 10 seconds).
Any size of window for the movie - using the mouse-drag option.
Zoom in full screen mode.
Easy access to filters used by video, as well as the ability to configure most of the available filters on your computer.
Easy access to recently opened files.
Repeat function.
Widescreen TV support.
Automatic selection of image resolution in full screen mode.
Option to adjust film volume separately from computer volume.
---
Вернуться назад